Basenji
The Basenji is a quiet independent little dog that does not bark, instead these small dogs make a sort of yodelling sound when they get excited.
This is a low maintenance dog as far as their coat is concerned. Their coat is easy to keep clean and they do not like to get wet at all.
Basenji Facts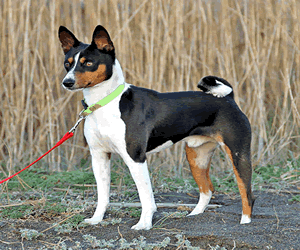 Exercise Requirements:      

Good with Children:             

Easy to Train:                        

Good Watchdog:                    

Low Shedding:                       

Good with Other Pets:         

Vital Statistics
Size: 40 -43 cm (16 -17 in)
Weight: 9.5 -11 kg (21 -24 lb)
Coat: Sleek, short and is very fine. Coat is very easy to keep clean
Colour: Tan and white, red and white, black and white, brindle. White legs, blaze and white collar
Lifespan: 12 years
Special Characteristics
This a clean and inquisitive little dog that does not bark. These dogs are known to be a little docile as well as being rather affectionate.
Exercise Requirements
The Basenji requires a good long walk each day. They require a medium amount of exercise.
Attitude Towards:
Owners: Self-sufficient and passionate.
Children: These small dogs are usually pretty good with children.
Other Pets: Being a hunting dog they will not fit well with small pets in the house.
Strangers: Will be cautious of strangers at first and then after a while will be friendly towards them.
Other Unfamiliar Dogs: Are very good towards unfamiliar dogs and will enjoy playing with them.
What to Watch Out For
These dogs love to chase and are quite alert for such a docile dog, which means they can be tricky to control when out and about on walks. If the dog wants to get away, it will.
Health Risks
Only a few possible health risks to mention with this breed, including progressive retinal atrophy and other eye problems, malabsorption, anaemia and kidney problems.
Ideal Owner
The perfect owner of the Basenji would be someone that doesn't mind an independent dog. You need to be able to take the dog on long energetic walks.
These dogs are almost like owning a cat, they are very okay to be left alone and will show some affection towards you every now and again.
More Photos