Easiest to Train Small Dogs
Below is a complete list of the easiest to train small dogs. This means these small dogs will become responsive to your commands rather quickly.
These small dogs will respond quickly to "sit", "wait", "come here" and many more commands and will learn all your house rules in speedy time.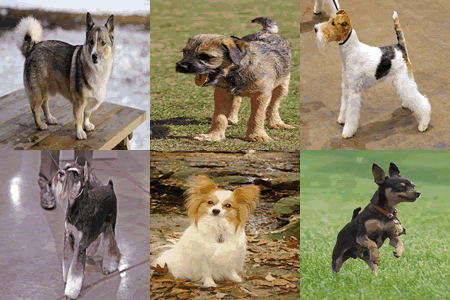 To get your dog trained up quickly with ease you should set aside around 20 to 30 minutes a day to devote to training your dog. Dogs learn easiest when the training is fun and when you reward them, do not over command too much from them at first.
These are the Easiest to Train Small Dogs
Easiest Way to Train a Small Dog
As you would expect training a small dog is a little different to training a big dog. Some worries owners might have for small dogs include them chewing and possibly swallowing things around the house other than their food.
Always reward your dog when they do something right.
Get down to your dogs level, this is important with small dogs.
Small dogs require a light collar and lead, heavy leather collars and chains are not practical.
Train your dog with a command (a voice signal) that they know you use for certain actions like picking them up.
When training small dogs to lie down you should do this on suitable flooring. Soft carpet is always good.
Introduce your dog to other people bit by bit, if they seem scared then don't push them into it.
Let your dog know that they have done something wrong. Have a word that you say so that they know.
To let your dog know who is in charge, you must always leave a room or go upstairs before your dog. Do not let your dog run in front of you.
Do not let your small dog order you to be put down or picked up until they are trained to understand your commands and household rules. Only ever put your dog down when they are quiet and behaving as they should in your arms.
The more you spend training and rewarding your small dog the better they will behave and do what you expect of them.
You should however be careful how often you choose to punish your dog because small dog breeds can become very aggressive if it is too often.
Because of this many small dog owners tend to be a little less strict with their dogs following their house rules, which of course is a big mistake, one you should not make.
When you train a small dog you really do have to stick to your routine and be prepared to reward and punish accordingly, if you let some bad behaviour go just once you are sending mixed signals to your dog, try not to confuse them.
If your rules change every now and again you are going to make it hard work for yourself to train your small dog.
It's all well and good to train your dog to behave but you must always set aside time to play with them too. Small dogs that have owners that play with them on a daily basis do behave better.
So how can play time with your dog help you train them. Well if you give your dog attention and time that they enjoy with you then your dog will in return be more responsive to you when training them.
If you do not spend time to train and play with your small dog you are more than likely going to get an unfriendly aggressive little dog, you will then need an expert to change this, which could well become expensive.