Popular Small Dogs
Below we have listed the most popular dogs between 2012 and 2015 to date. These small dogs are popular because they are cute with many of them being great with kids, making them superb family pets.
It is well known that Teddy Bear dog breeds (Zuchon, Shichon, Tzu Frise) are becoming more popular. Teddy bear puppies are super cute and are often referred to as designer dog breeds. This is where you cross breed two small dog breeds.
These small dogs are not just adorable, they are loyal and incredibly affectionate. To learn about the character traits of each dog just click on the dog name.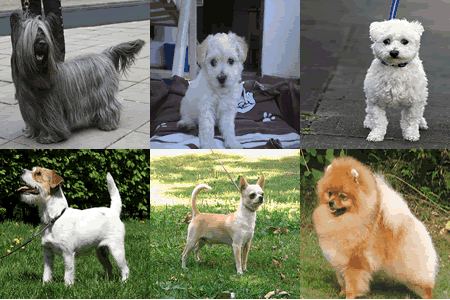 Top 10 List of the Most Popular Small Dogs
Remember that you should not choose a dog based on looks and popularity alone. There are so many other factors to take into consideration, if you get the selection right you and your dog will be much happier together.
Choosing a Suitable Dog for Your Family
First of all take a look at the photos of the popular small dogs to find one that you think is rather cute. Then click on the name of the dog to read more about the dog and find out if it is right for you and your family.
It is very important that the character of the dog suits your family. Before you choose one of the popular small dogs just think about what it would be like to have it living with you.
Your Character
If you are a chilled out kind of person then choose a dog that has a more relaxed less energetic personality that will fit in well with yours.
If you choose a dog with a very strong character then it will be very pushy and will always want to get its own way, these dogs need strong minded owners and ones that are patient and willing to train them to get them to behave how they want them to.
Lively or Shy
If you have a very outgoing energetic family then choose a dog to match, get a dog with high energy levels that loves going out on long walks all the time.
Older people that are looking for a dog for companionship may be more suited to a more gentle breed of dog with lower energy levels.
Friendly
If you are looking for a dog to bond with just you and only you and to ignore other people then go for a breed that likes to be independent.
If you have a big family and want a friendly sociable dog then choose a dog that likes to bond with other people, in this situation choosing an outgoing loving dog is imperative.
Be aware that some dogs liked to be stroked and others don't, just think about what you want from your dog before you go ahead and get one.
Home Alone
Every now and again your dog is going to be left home alone, you need to ask yourself how often that this is going to be. Some dogs that do not like being left along can bark a lot, which could lead to problems with your neighbours.
If you are going to get one of these popular small dogs from a puppy then you will have to train them so that they can get used to being left home alone from an early age.
Children
Many of these popular small dogs are good around children, for them to be good around children your dog needs to be flexible with their toys and other possessions. Small dogs that are protective over their food and toys will not be good around children.
The dogs listed above are popular because they have certain qualities that people love, they are easy to train, playful and lots of fun to have.
Training
As you would expect some of these popular small dogs are easy to train and others are not. Some will pick up on your commands quickly and others will take time and patience on your side to train them.
If you are planning on getting a puppy then training can be a long drawn out process and getting them in line with your house rules can take some time.
Play
The hound breeds are less likely to play, which is probably why none of these dogs have made it onto the most popular small dogs list.
Some of the breeds above, in particular the terriers, are less friendly with other dogs. You need to look for a sociable dog if you plan on taking it near other dogs.