Small Dogs
Getting the right size dog is very important and there are a few things to consider when choosing your dog. Small dogs are perfect for any size house, garden/yard or car.
As you would expect small dogs are generally a lot easier to handle on walks, they are not as strong as big dogs and are much easier to control. This means even some children and elderly people are capable of walking small dogs.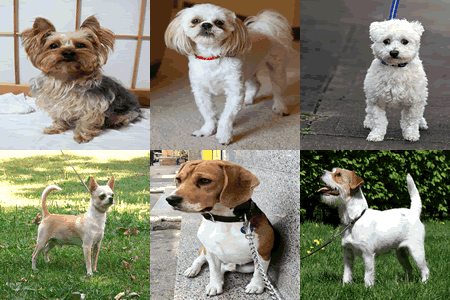 If you already own a dog then getting a small dog might pose a problem. If one dog is a lot bigger than the other fighting and playing will not be fair and one dog, which will more than likely be the small one, will be pushed out.
Use our info pages listed below to help find a small dog that will suit you. We even go into detail about what the ideal owner of each small dog would be like.
All you have to do is find a match with your personality with one of the ones we have listed on each dog information page. If you find a match then ask yourself how will this small dog fit into my family?
Small Dog Breeds Listed by Personality Characteristics
Small Dogs Listed A to Z
Small Dog Breeds by Weight
Finding a Small Dog
When you eventually settle on a small dog breed that is right for you and your family you need to know where to find your small dog.
You can get a small dog by looking around the places that re-home dogs in your area, you can also go to a breeder. Of course there are very bad and really good breeders out there so you have to do some research before you buy a dog.
Things to do and What to Avoid
Do not rush into getting a dog, do your research and make sure that you visit a breeder or a dog re-homing centre more than once to be certain that it is the right choice.
One big mistake would be to take your kids with you on your first outing to find a dog. As you will know kids will want a dog there and then just because they look so cute, this is not a good idea and you could make a very bad decision that you will regret.
If a re-homing centre or breeder do not have a dog breed that you have researched and decided on that is the best fit for you and your family do not just pick a dog and go with it just for the sake of it. Be patient and get the dog that is right for you, it is much better this way in the long run.
Re-homing Centres
Dog rescue centres are a very wise choice in where to begin looking for your dog. There are too many dogs out there that need good homes and the centres always have a wide choice of small dogs to choose from.
You will need to do a little research to find the very best centre in your area, ask friends and family and do a little research on-line.
There are more good reasons for choosing a rescue centre to get your dog from, in most cases you can be certain that the dogs will have been very well cared for.
This means that the centres will have taken care of vaccinations, neutering, health checks and of course the dog will have been very well fed.
When you go to the centre keep in mind the dog breed that best suits your family the most and stick to it, if there is not anything there then move on and look elsewhere, above all do not rush the process.
When you are at the centre and you find a breed that suits you be sure to then ask the staff about the dog. Here are some useful questions to ask:
What is it like with other dogs
Is the dog good with strangers
Is the dog good around children
Then ask if you can take it to a place in the centre alone to get to know it a bit
When you are alone with the dog if the staff deem this to be okay just have a little play with the dog and stroke the dog, get a feel for what the dog is like for yourself.
Some centres even let you reserve dogs, if the centre that you go to does offer this then use this as an opportunity to get to know the dog. Leave the dog in the centre and visit it every day, if you still like the dog after the visits then you know you are making the right choice.
Dog Breeders
You have to be super careful when buying a dog from a breeder, do as much research on the breeder as you can before you visit their home or kennels.
Breeders do keep adult dogs back and in some cases the dogs have lived all their life in kennels and therefore do not make very good pets. These dogs in particular and the breeders brood bitches are hard to take care of, they have not been around other dogs and humans that much and could well be a handful to train.
A good sign is when a breeder has taken a dog back that they have sold, the dog has therefore been a pet and around people and if it has been looked after correctly will make a great pet for you.
Friends
Getting a dog from a friend that you know really well is probably one of the best options out there. You might already know the dog pretty well and can be certain that it will fit in with your lifestyle and family.
One thing you should avoid is taking a dog on as a favour to a friend, unless of course the dog is a suitable fit to your characteristics and lifestyle.
The Web and Newspaper Adverts
You should try and avoid this method of finding a dog if it all possible, use one of the other avenues mentioned above, only use this option as a last resort.
If you do go down this route be sure to ask the owners of the dog a lot of questions, write out a list before you go and do not leave any stone unturned.
You can not know if a dog is right for you just by looking at it, try and use your instincts on the answers that the owners give to your questions, if things seem a bit off then walk away, go on your gut instincts on this one.
A very good idea is to ask to take the dog for a walk, if you live close by you can even suggest dropping over in the evening every night through the week to get to know the dog before you make the final decision.
If the seller is desperate to get rid of the dog they will always say that they have had a lot of interest and that someone else really wants it, don't fall for it, stick to your plan and get to know the dog a little first before you go ahead and take it home.