Miniature Pinscher
The Miniature Pinscher has a very distinctive look about them, flexing more at the knees more than other dogs. This is a rather lively little dog.
These small dogs love to play and have a quite feisty nature, they like to have their independence and are constantly busy and active around the house.
Miniature Pinscher Facts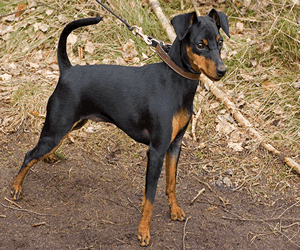 Exercise Requirements:      

Good with Children:             

Easy to Train:                        

Good Watchdog:                    

Low Shedding:                       

Good with Other Pets:         

Vital Statistics
Size: 25-30 cm (10-12 in)
Weight: 4-5 kg (9-11 lb)
Coat: Short, hard and smooth
Colour: Black, blue, chocolate with defined tan markings or solid red
Lifespan: 13-14 years
Special Characteristics
These dogs love to be around people and really do enjoy a good play. They are described as being alert, confident, spirited, courageous, feisty, lively and curious.
Exercise Requirements
These dogs are classed as having medium exercise requirements. They will be busy at home always looking to play. Two good walks each day combined with a good play session at home will keep them happy and content.
Attitude Towards:
Owners: Like to be independent, will show a lot of affection towards their owners too.
Children: Are great with children. These dogs are small and could well be injured by boisterous children playing.
Other Pets: Some are known to be problematic around other small pets.
Strangers: Will be friendly if well socialised from a young age.
Other Unfamiliar Dogs: Again are friendly towards other dogs if they have been well socialised from a young age. Make this part of your daily routine.
What to Watch Out For
These dogs have a lot of energy to burn and really do enjoy a good play, if you do not keep them active around the home through play they might try to escape when they get bored.
Health Risks
Quite a few health risks to take note of with this breed including; patellar luxation, hip problems, Legg-Calve-Perthes, progressive retinal atrophy, cataracts and pannus.
Ideal Owner
As you would expect the perfect match for the Miniature Pinscher would be an active owner with plenty of time available to play with the dog and keep them entertained at home.
More Photos