Small Dogs That Are Good with Other Dogs
Below is a list of small dogs that are good with other dogs. Most dogs can get on with other dogs if you socialise them early on in life.
However, some small dog breeds are less social with other dogs than others, more so the terrier breeds and those breeds that are bred for fighting.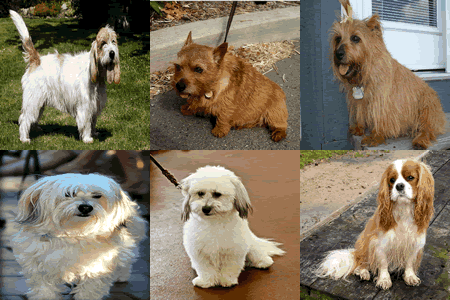 There are many reasons to choose a sociable dog. If you have another dog in the house or if you plan to take your dog on long walks where other dogs might be for example.
If you already have a dog at home then you need to make sure that your new dog is suitable. Both dogs need to be able to enjoy being around each other, you do need to plan a get together or two for them to get to know each other.
If you are getting a puppy then just make sure that socialising your dog with others is part of your training schedule. If you do this right your dog is more likely to tolerate other dogs brought into the home.
You should also know that bringing another dog into your home will eventually lead to your dogs learning from each other.
If your current dog or the dog coming into your home has any bad habits, like excessive barking, can be passed onto the other dog.
Small Dogs That Are Good With Other Dogs List
Which One is Right For You?
The Cavalier King Charles Spaniel will get along well with all other dogs and will even enjoy playing with any other pets that you have in your home. If you have a cat that loves to play then The Cavalier will love to play with it.
The Coton De Tulear likes to have company and would welcome another dog into the home with open paws. These lovely little dogs even get on well with other small pets in the home.
The Havanese is good with all other dogs and pets in the home. This is a great family dog that really does love to be around children too.
The Norfolk Terrier, although he is a terrier, is surprisingly good with other dogs in the home. You should know that these small dogs will chase and terrorise other small pets like hamsters or birds. These are a big no for homes with small pets in them.
The Norwich Terrier will do well with all other dog breeds and are even known to be okay living with cats. These small dogs are better suited to homes with older children in them.
The Petit Basset Griffon Vendeen is another hunting breed so is not good with small pets in the home, but will love the companionship of another dog in the house.